Overview
Offering seasonal cruises through some of the least-explored waters on the planet, the Ombak Putih, meaning 'White Wave', is a traditional, Indonesian phinisi schooner. Her shapely curved bow and elegant lines are the embodiment of the centuries'-old handcrafted boat-building skills of the Bugis people from the island of Sulawesi.
Your Cabin
With a maximum capacity for 26 guests, the Ombak Putih presents 12 private, air-conditioned double and twin cabins located below decks, some of which are equipped with a third bed for families traveling with a child.
Each cabin has an en-suite bathroom, ample stowage space, and a large porthole that fills the room with natural light and allows for a glimpse of the tropical surroundings. If the weather is balmy, the crew will set up a bed for you on the Top Deck for a night under the stars.
Life On Board
In between shore excursions and snorkeling trips, life on board is one of pure enjoyment, with top-class service. The vast wooden Main Deck is all about relaxation. From here, you can watch the dramatic volcanoes, breath-taking landscapes and seascapes of Indonesia pass by. You will almost certainly spot flying fish or dolphins cavorting alongside the boat from the cushioned seating at the bow. A canopy-shaded outdoor dining and seating area is where all meals are served.
The spacious, air-conditioned salon includes the ship's library, a presentation TV, small bar, and coffee station. On the Top Deck, an uncovered bow facing area and a covered viewing area aft of the wheelhouse provide a plentiful supply of benches, loungers, couches and bean bag chairs for reading, napping and socializing.
Delicious Cuisine
Three delicious daily meals are served buffet style, prepared by talented on-board chefs, who pride themselves on being able to create a selection of Indonesian, Western and Asian delights, using only the best quality meat, seafood and fresh produce available. You can expect to feast on the day's catch of fish, exotic fruits and vegetables from local markets. Snacks are always available, as well as afternoon tea.
Meet The Team
Each Ombak Putih cruise is led by professional, multilingual tour leaders who will escort you in all activities both on land and at sea, answer your questions, provide in-depth daily briefings, and ultimately ensure the smooth running of every aspect of the cruise. Look forward to musical entertainment and some highly attentive service from the crew, whose smiles and friendly personalities offer an even greater insight into the Indonesian way of life.
For Your Safety And Your Water-Based Fun
The 138-foot Ombak Putih is outfitted with up-to-the-minute safety equipment and communications technology, and equipped with high-quality tenders, kayaks, stand-up paddleboards and snorkeling gear for water-based fun. The vessel is powered by a reliable "workhorse" engine, which is assisted by sails when and if the wind is cooperating.
Charting a course through some of the more remote corners of the Indonesian archipelago, in search of pristine coral reefs, rare native birds and wildlife, and traditional cultures, the Ombak Putih's old-world charm will imbue your voyage with a magic that harkens back to the days of the spice traders. The adventure and expert-led cruises are family-friendly, great for groups of friends, and romantic for couples.
Accommodations
Social Areas
Aft
Dining
Observation Deck
Rear Observation deck
Aft Deck
Sun Deck
Suites & Cabins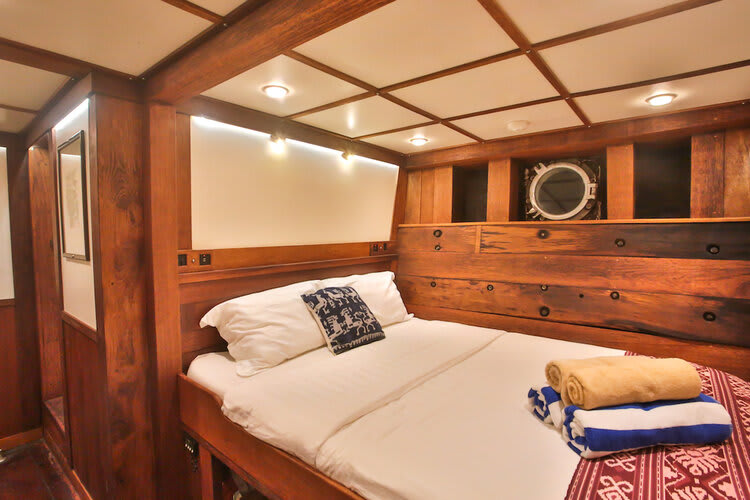 These rooms feature porthole windows that allow light to flow into the room naturally and allows guests to take in the beautiful scenery. They also come with private ensuite bathrooms featuring essential amenities like slippers, a basket of toiletries, and a hairdryer. 6 have double bed, 4 have twin bunk cabins (one above the other) and 2 are triple cabins with one double bed and one upper single bunk suitable for children 12 years or under.