Overview
Launched at the end of 2016, the Rascal Yacht is a 98-ft hand-crafted ironwood and teak cruiser. The vessel has been skilfully designed to combine traditional techniques with 21st century interiors and facilities for a luxurious experience. Set against the backdrop of the raw beauty of Indonesia's eastern islands, Rascal offers floating villa-style accommodation for up to 10 guests, complete with five-star hotel service and an almost one-to-one crew-to-guest ratio, catering for every need.
Sumptuous Cabins
Five sumptuously furnished cabins, each rocking a playful tropical beach house twist, are all uniquely situated above deck, promising large windows that draw in the spectacular ocean views. Each cabin features a natural teak floor, a 7-ft-high ceiling, and an en-suite bathroom with tailor-made fittings and abundant hot water. Furthermore, each is equipped with its own flat screen TV with hundreds of movies, a SONOS interactive music system and universal electrical sockets, as well as ample storage and work spaces.
The Master Suite with a king-size bed opens onto a private balcony where lounge chairs allow private sun worshipping. There is another double cabin on the Upper Deck, while the other three cabins can be found on the Main Deck, including one furnished with bunk beds – perfect for kids.
Life On Board
Rascal's alfresco dining area on the Aft Deck is shaded from the sun and optimally placed for that sea breeze. For panoramic views, head to the vast 1280-sq-ft infinity Roof Deck; an ideal space for sunbathing and admiring the passing scenery and incredible sunsets. Rascal's pared back beach chic is elevated with excellent hospitality provided by the experienced crew of nine including a Western cruise director, a dive guide and a talented private chef.
Cuisine on board
Top quality ingredients are hand-picked by your on-board chef from local markets, and meals are lovingly prepared combining Indonesian, Asian and Western flavors. There is also a range of freshly pressed juices and a fully-stocked indoor bar, complete with a specially-commissioned cocktail list tended by a professional barman.
Explore And Play
Rascal's tantalizing toy collection includes water-skis, wakeboards and a banana boat guaranteed to unleash your thrill-seeking inner self. For more leisurely activities, kayaks, snorkel sets and fishing gear is readily on hand. There are also two RIB tenders, and Rascal's PADI Instructor leads diving excursions through some of Indonesia's most biodiverse habitats.
On land, you can hike through jungles and savannah grasslands in the hope of spotting rare wildlife and birds, or you can wander through local villages to witness cultures unchanged by time. Trek up active volcanoes or sunbathe on deserted white sandy beaches.
From first-hand encounters with Komodo dragons, to explorations of the stunning national parks of the Flores Sea and Raja Ampat to snorkeling alongside manta rays and whale sharks, you will experience the spontaneous warmth of the Indonesian culture as part of an unforgettable off-the-grid voyage. A Rascal Cruise is the perfect choice for families or fun-loving friends looking for barefoot adventure in Indonesia.
Accommodations
Social Areas
Bar
Breakfast Table
Bridge
Cabin
Deck
Indoor Dining
Breakfast
Indoor Breakfast
Side
Upper Deck
Upper Deck
Suites & Cabins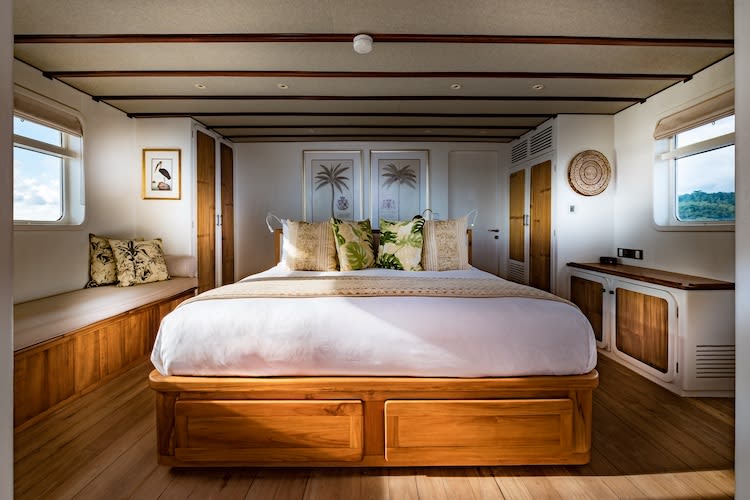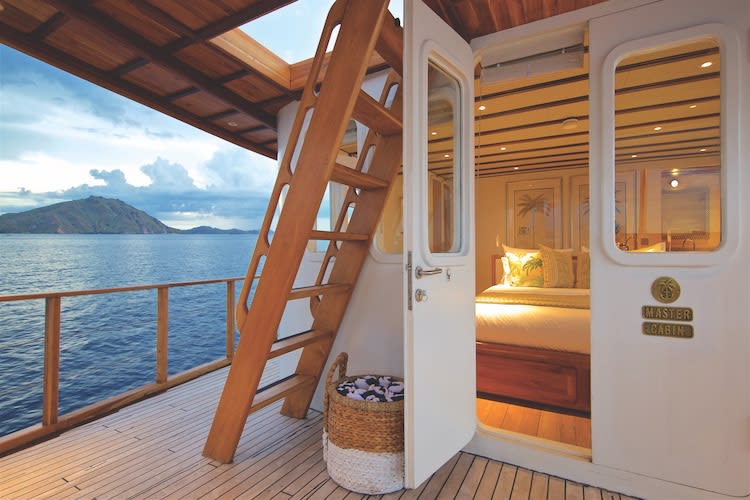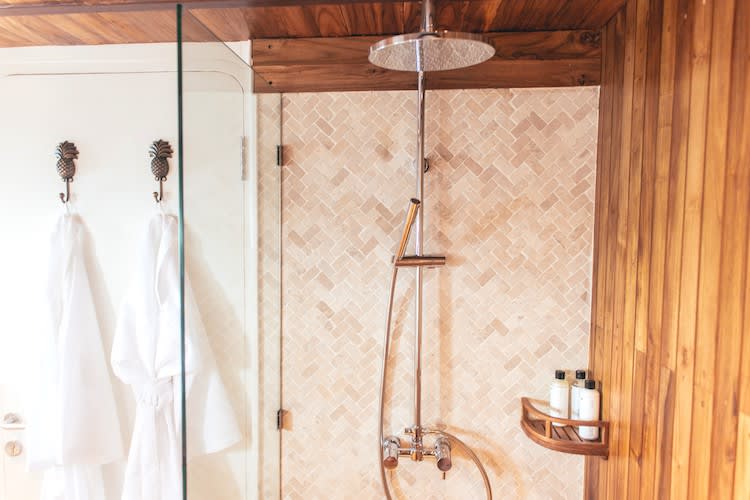 The master cabin is incredibly spacious, with large windows that open onto a private balcony with lounge chairs. Guests can relax as they take in the mind blowing view of the sea while sunbathing. The ensuite bathroom comes with tailor-made fittings and hot water in abundance.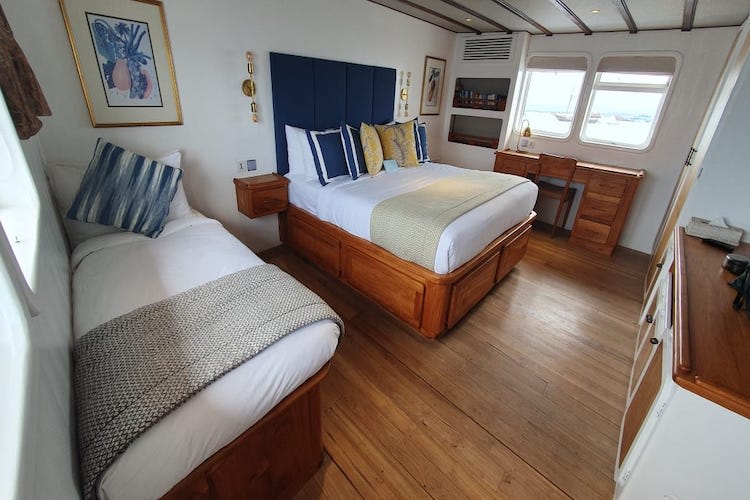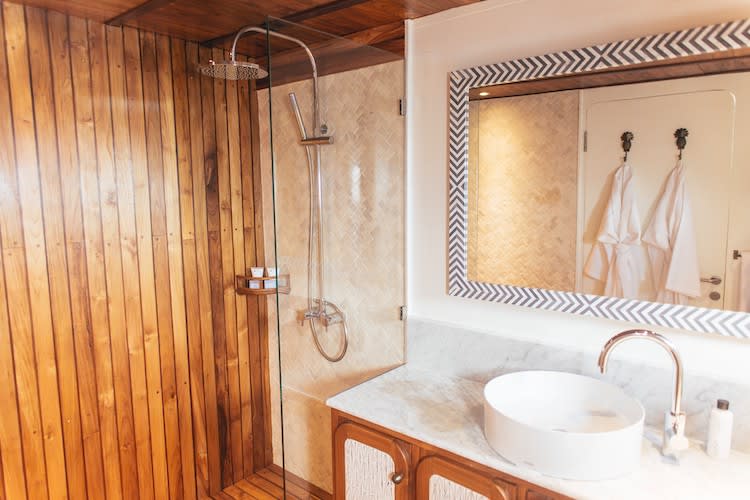 The upper deck cabin promises guests a spectacular view of the ocean through the large windows. The flooring is designed for comfort even when barefoot, and the beautiful private bathroom is fully equipped with hot water and various amenities.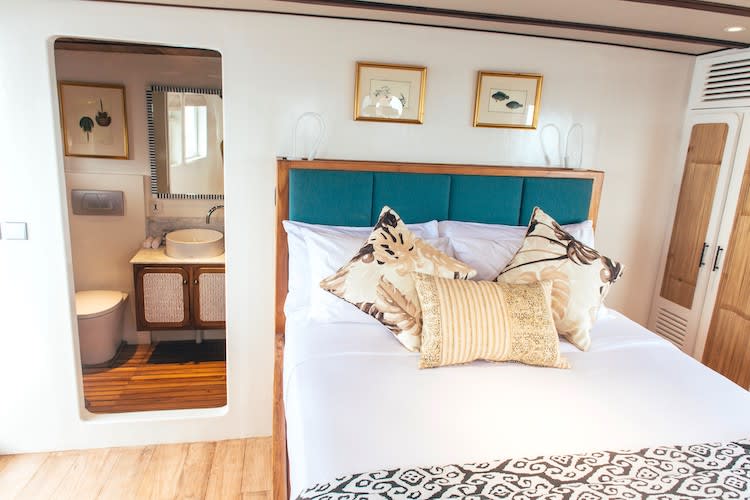 The main deck cabin featuring a large window that allows light to flood into the room is designed for maximum guest comfort. The cabin features multiple electrical sockets to accommodate your devices and seat and a desk if you are looking to get work done.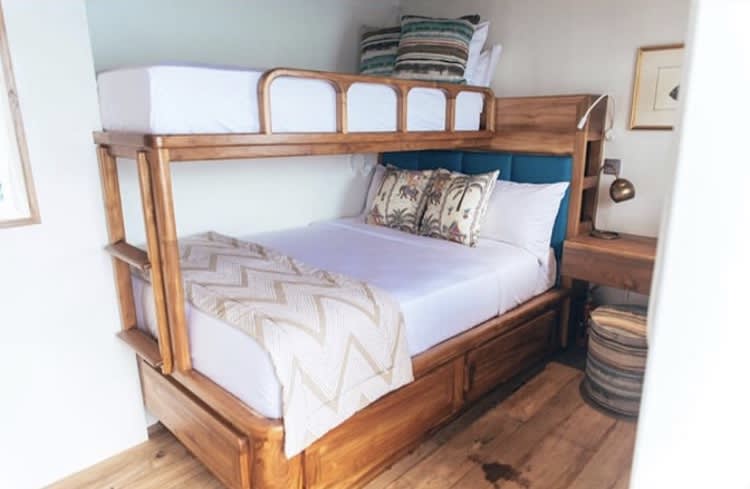 The Family cabin features a flat-screen TV with hundreds of movies and a SONOS interactive music system to ensure you stay entertained in your suite. The room has ample storage space to fit all your belongings and a stylish bathroom with hot water and toiletries.